Shop local this holiday season, and you could win one of the following gift cards to a downtown restaurant/retailer of your choice!
2 – $100 Gift Cards
8 – $50 Gift Cards
10 total chances to WIN!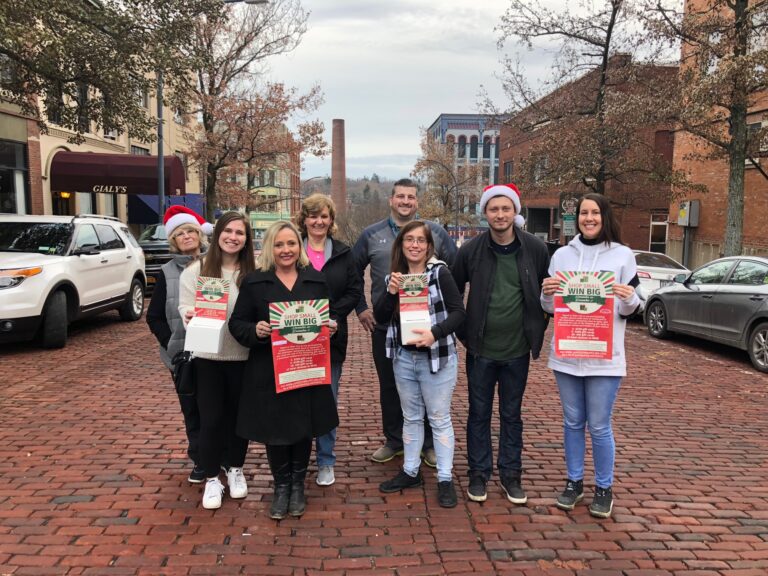 HOW TO ENTER:
1| Visit a participating store or restaurant in downtown Jamestown
2| Make a purchase of at least $10 between November 30 and December 18
3| Fill out your ticket at checkout and drop it in the game box
4| Keep your fingers crossed! Winners will be contacted December 20!
WHERE TO SHOP
3rd on 3rd Gallery, 108 E 3rd Street
Featuring their annual "Over 100 Under 100" this regional art show features over 100 items priced at under $100.
BioDome Project, 207 Pine Street
BioDome Project is a locally-owned art gallery, artisans' market, and indoor gardening experiment dedicated to growing plants and building community in Jamestown, NY.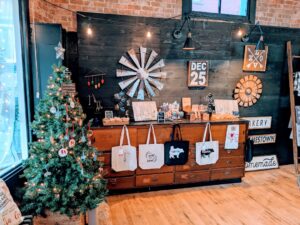 Brindle Barn & Designs by Ashley, 38 N Main Street
Great selection of housewares, jewelry, and gifts! Keep your eye out for holiday themed workshops too!
Chautauqua Brick, 34 Harrison Street
This home improvement store features a variety of construction materials and knowledgeable professionals to help you find the materials you need.
Chautauqua County Chamber of Commerce, 300 N Main Street
Stop into the Chamber to purchase the Shoptauqua Gift Card, available in any denomination up to $500. Gift cards can be used at over 140 locations throughout Chautauqua County.
Chautauqua Music, 110 E Second Street
Jamestown's oldest music store is here to help with all your music needs.
Children's Activity Corner, 14 E Second Street
The gift shop at Children's Activity Corner features great education toy choices for children.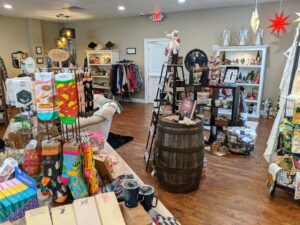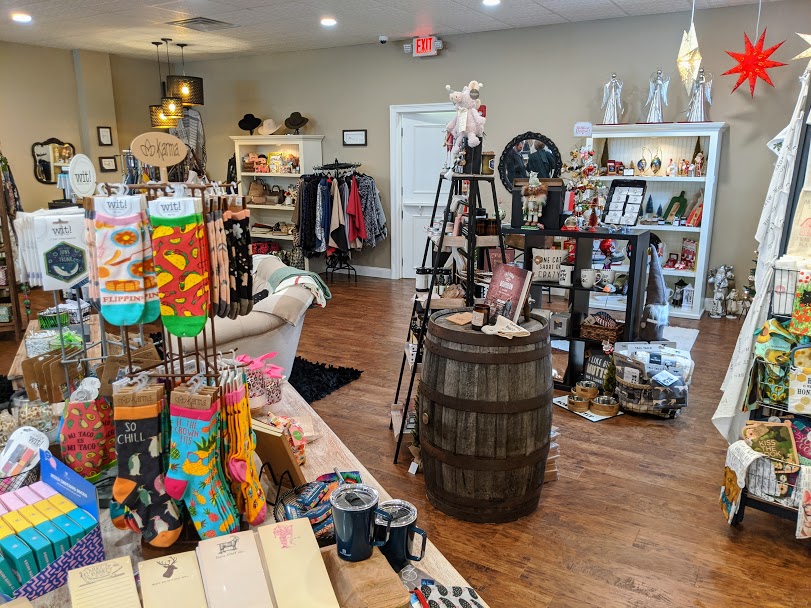 Dot's Gift Boutique, 111 W Third Street
For the perfect gift, something just right for your next gathering, or that special something just for you – you'll find just what you are looking for at Dot's!
Dykeman Young Emporium, 100 E Second Street
Featuring unique vintage clothing and items, many of which have appeared in major motion pictures and popular television shows, you are sure to find something that piques your interest!
Farm Fresh Foods, 703 W Third Street
Quality grocery store featuring deli products, bakery items, sandwiches, pizza and wings, fresh produce, and fresh-cut deli meats.
Frame & Glass Shoppe, 315 N Main Street
A wide selection of frames featuring quality in houe framing.
Fresh Press Studios Inc., 100 N Main Street
Full service silk screen and design company, with a selection of Jamestown themed shirts.
Geer-Dunn Company Inc., 309 Prendergast Avenue
Full service office furniture and office supply store.
Gokey Mini Market, 102 W 3rd Street
Local convenience store featuring common items and a selection of gifts.
Jamestown Cycle Shop, 10 Harrison Street
This sports store features a wide selection of popular apparel brands, wide selection of bicycles, winter sports gear, and more.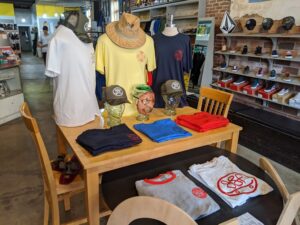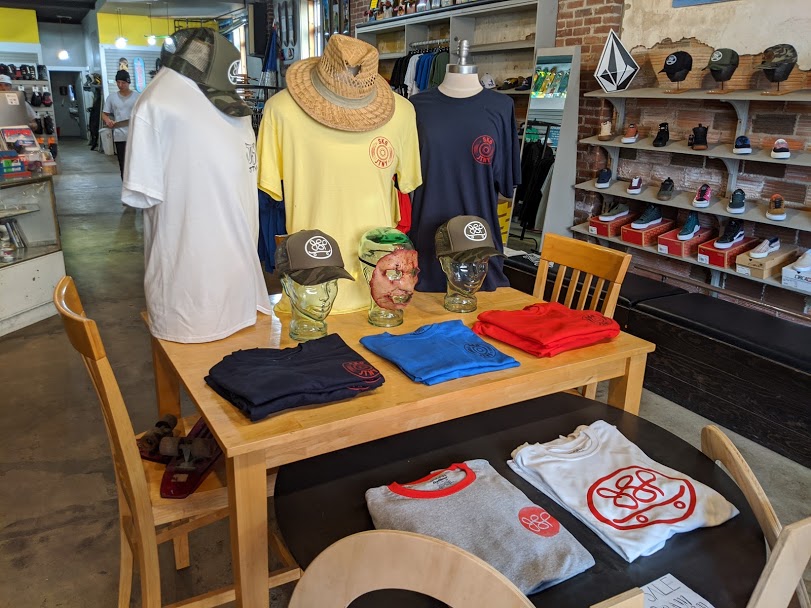 Jamestown Skate Products, 209 Pine Street
Offering a wide selection of skateboard and snow sport equipment and apparel, this skate shop also features a second floor skate park, and manufactures their own skateboards.
Josef's Jewelers, 104 W Third Street
Jewelry store.
Lafayette Corners, 215 W Fourth Street
Jamestown's largest furniture store features a large selection to help fill your home.
Lander's Men's Store, 215 N Main Street
Clothing store with large selection of clothing and sizes, including big and tall. Affordable suit collection with in house tailoring.
Liquid Monkey, 16 E Third Street
Custom blown glass and gifts with glass blowing workshop in the front of the store.
Lucy Desi Museum Gift Shop, 2 W Third Street
Two separate gift shops connected to the Lucille Ball Desi Arnaz Museum feature a large collection of Lucy Desi gifts and more.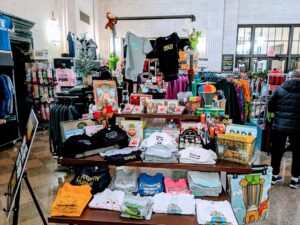 National Comedy Center Gift Shop, 211 W Second Street
Located in the historic Jamestown Train Station, this gift shop features a variety of comedy gifts and apparel.
Nouveau Home Boutique, 19 E Fourth Street
High quality selection of home accessories and gifts.
Patient's Pharmacy, 320 N Main Street
Prescription medications and healthcare supplies with great customer service.
Pearl City Botanicals, 205 Cherry Street
Focused on alternative healing products with a wide variety of CBD products.
Ricky's Pawn Shop, 213 E Third Street
Pawn shop.
Shake it Daily, 304 N Main Street
Nutritional shake bar.
St Luke's Thrift Shop, 409 Pine Street
Thrift shop that translates donated items into financial resources for the Jamestown community. 
The Trophy House, 100 E Second Street
Specialists in recognition award sand gifts.
Video Games Plus & Jamestown Gift Shop, 106 E Third Street
A variety of affordable items including video games, figurines, flags, knives, and more.
WHERE TO DINE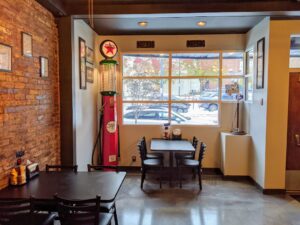 4 Below Haggy's Bar and Grill, 104 E Second Street
Featuring Jamestown's only self serve bar taps, and a menu with all items $4 or less.
Bair's Pizza, 522 E Second Street
Wide variety of pizza, wings, salads, Stromboli's, and more.
Best Kitchen, 615 W Third Street
Various Chinese takeout option, with limited dine in space.
Brazil Craft Beer & Wine Lounge, 10 E Fourth Street
Large variety of craft beer and wine featuring a great vegetarian menu.
Cherry Lounge, 326 Cherry Street
Full service bar and restaurant located in the heart of Downtown Jamestown, featuring daily lunch specials.
Crown Street Roasting Company, 16 W Third Street
Crown Street Roasting Company is a third-wave, specialty coffee roastery and café dedicated to quality products.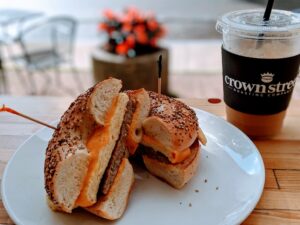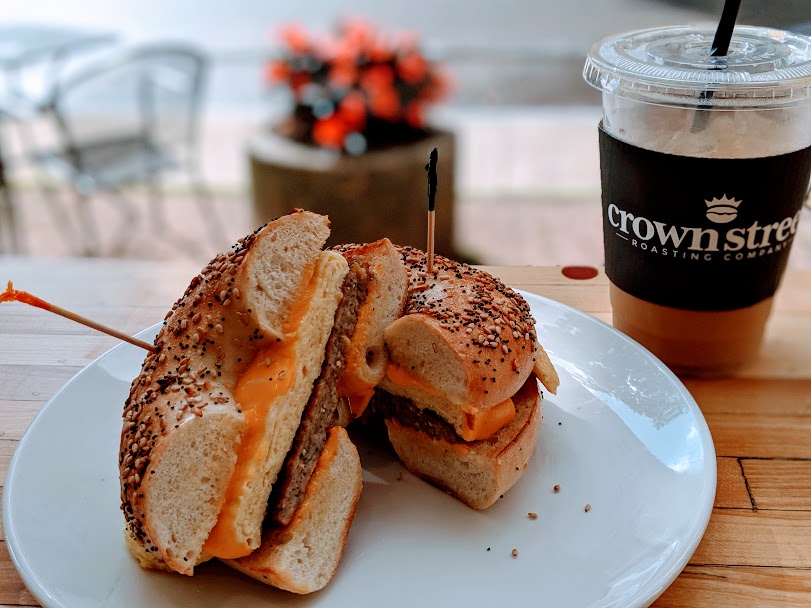 El Jarocho, 323 Washington Street
Great Mexican Restaurant featuring traditional and modern Mexican dishes.
Fisher's Family Restaurant, 711 W Third Street
Affordable breakfast and lunch options.
Forte, 114 E Third Street
Eclectic, New American cuisine, craft cocktails & microbrew in an inviting, small town yet urban atmosphere. Reservations Recommended.
Full Moon Rising Bakery, 122 E Third Street
Full Moon Rising is a boutique of baked & beautiful edible art. Punk rock pastries.
Gialy's, 210 Pine Street
Italian restaurant and steakhouse located in Jamestown, NY.
Havana Cuban Cafe, 212 N Main Street
Delicious Cuban favorites including a large variety of pressed Cuban sandwiches.
Jamestown Brewing Company, 119 W Third Street
Brewpub and restaurant like nothing else in Jamestown. JBCo features craft beers, wine and mead paired with farm-to-table food sourced directly from local farmers.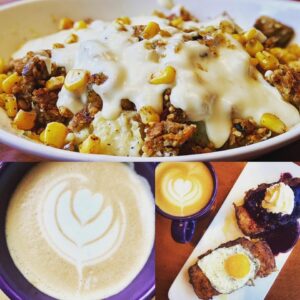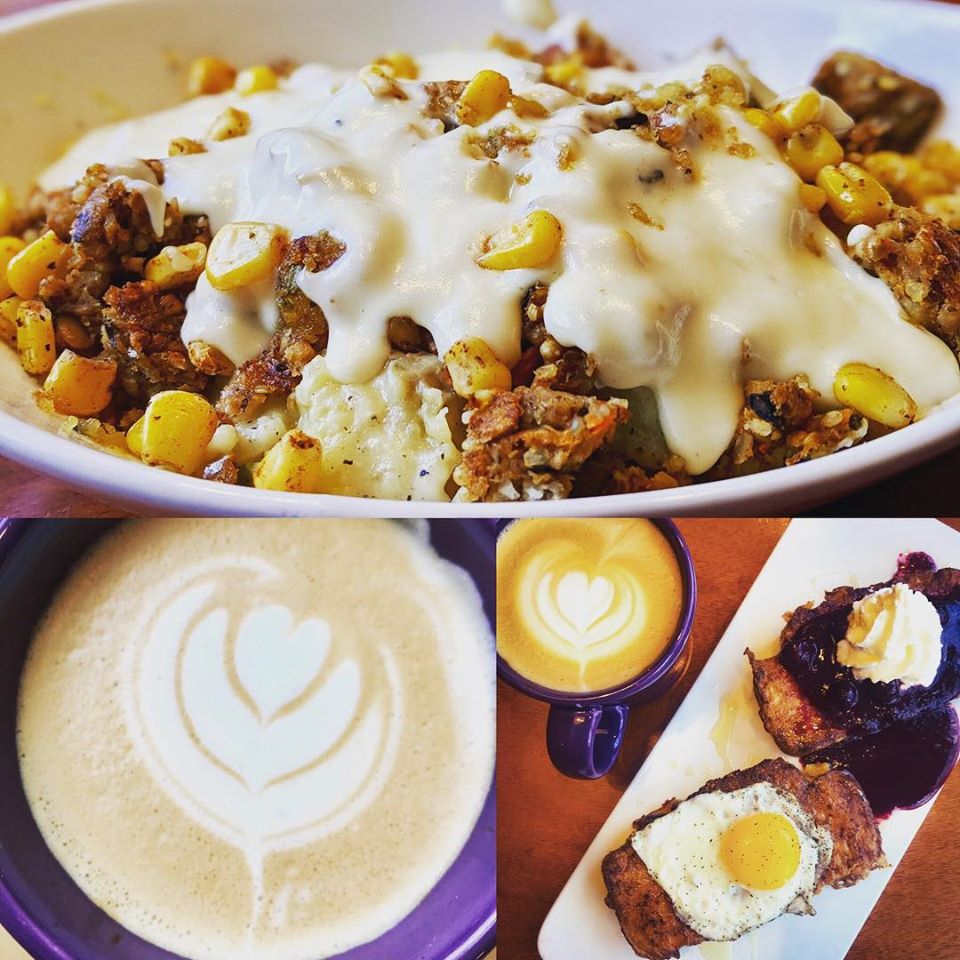 Labyrinth Press Company, 12 E Fourth Street
The Labyrinth Press Company is a cafe and espresso bar located in the heart of historic downtown Jamestown. They offer Jamestown hearty and unique vegetarian fare including soups, burritos, salads, and baked goods.
Landmark Restaurant, 516 W Fourth Street
Fine dining in the old school tradition with a new school approach expect delicious cuisine using the best ingredients prepared with skill and imagination.
Lisciandro's Restaurant, 207 N Main Street
Home cooked breakfast and lunch, made to order.
Oriental Star Buffet, 7 S Main Street
Chinese buffet that also offers delivery and takeout.
Pace's Pizzeria, 549 W Third Street
Wonderful pizza, wine, and salads in a great enviroment.
Pearl City Hops, 150 W Fourth Street
Gastropub located in the heart of downtown, serving breakfast, lunch, and dinner. Kitchen closes at 10pm, bar closes at 1am!
Sandee's Brooklyn Square Cafe, 15 S Main Street
Cafe inside of the Jamestown Riverwalk Center.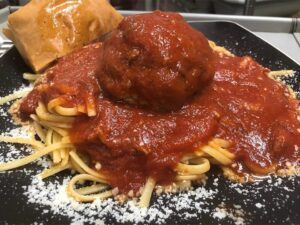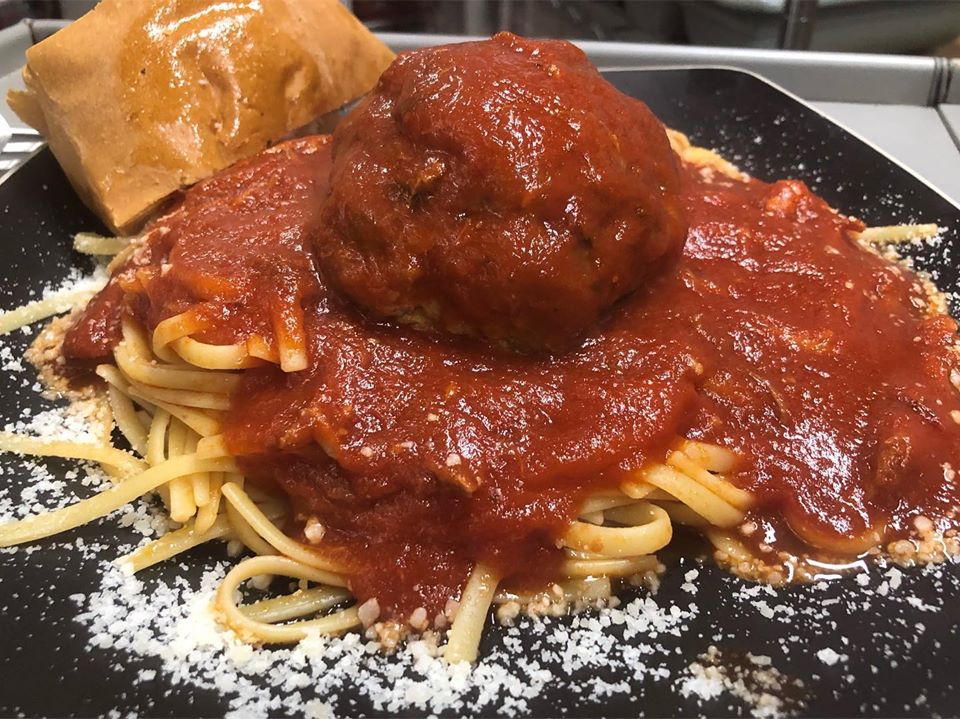 Sauce, 306 N Main Street
Italian pizzeria and pasta house specializing in classic recipes w/ a modern flair!
Shawbucks, 212 W Second Street
Family friendly restaurant and bar located in downtown Jamestown, NY.
Taco Hut, 203 E Third Street
Popular hangout for Mexican food and margaritas.
The Beer Snob, 318 Washington Street
All the Beers and Ciders for there or to go. They also have a robust wine list by the glass and bottle. Eclectic, always changing food menu.
The Chadakoin Club, 104 W Second Street
Bar and restaurant with a live music focus.
The GypsyMoon Cake Co, 205 Cherry Street
The Gypsy Moon Cake Co. offers a myriad of Baked Goods, Custom Cakes, and Catering.
The Pub, 209 N Main Street
Great homemade food. Pasta, Meatloaf, Beef on Weck, homemade soups and desserts. Full bar.
Wine Cellar, 309 N Main Street
Casual bar with outdoor patio.
WHAT TO DO
Children's Activity Corner, 14 E Second Street
The Children's Activity Corner of Jamestown encourages the curiosity and imagination of children and families by providing fun, interactive experiences, and programs for families to explore, discover, and play together in a welcoming environment.
Escape Rooms Jamestown, 20 W Third Street
Jamestown's only escape rooms. Book online HERE!
Lucille Ball Desi Arnaz Museum, 2 W Third Street
Preserving the legacy of Lucille Ball (from Jamestown) and Desi Arnaz, this museum features sets and memorable artifacts from the show and their lives.
Lucille Ball Little Theatre, 18 E Second Street
Community Theatre selling 2019 season passes, with live performances of Disney Frozen Jr. from December 12-15.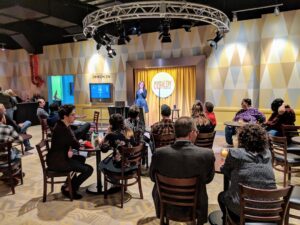 National Comedy Center, 203 W Second Street
A world class attraction that celebrates all of comedy. Featuring over 50 interactive exhibits, you'll laugh for hours!
Northwest Arena, 319 W Third Street
Two rinks feature many events including the Jamestown Rebels Junior Hockey Team, various tournaments, open skates, ice bumper cars, and figure skating.
Reg Lenna Center for the Arts, 116 E Third Street
Reg Lenna Center for The Arts is at the heart of the arts and cultural district in Jamestown NY. The Reg showcases a wide variety of events including live concerts, movies, ballet, orchestras, gallery shows and more. 
Robert H Jackson Center, 305 E Fourth Street
The mission of the Robert H. Jackson Center is to advance public awareness and appreciation of the principles of justice and the rule of law as embodied in the achievements and legacy of Robert H. Jackson, U.S. Supreme Court Justice and Chief U.S. Prosecutor at Nuremberg.
OTHER
Charm Salon, 112 W Third Street
Dorian's Plus Hair Salon, 308 N Main Street
Fringe Hair, 23 E Third Street
John David Salon, 518 Pine Street
Lotus Healing Center, 4th & Pine
Nouveau Salon & Day Spa, 21 E Fourth Street
Panache Salon & Spa, 525 W Third Street
Salon 2000, 210 W Fifth Street
Samsara Yoga Center, 113 E Second Street
Sugar 'n Spice Beauty Salon, 110 N Main Street
NO PURCHASE IS NECESSARY TO ENTER OR WIN. A PURCHASE DOES NOT INCREASE THE CHANCES OF WINNING.
Eligibility: Shop Small Win Big is open only to those who legally enter the contest and who are 18 as of the date of entry. The Giveaway is only open to legal residents of the United States of America and is void where prohibited by law. Employees and board members of Jamestown Renaissance Corporation, their respective affiliates, subsidiaries, and their immediate family members and/or those living in the same household of each are not eligible to participate in the Giveaway. The Giveaway is subject to all applicable federal, state and local laws and regulations. Void where prohibited.
Agreement to Rules: By participating, you agree to be fully unconditionally bound by these Rules, and you represent and warrant that you meet the eligibility requirements set forth herein. In addition, you agree to accept the decisions of Jamestown Renaissance Corporation, as final and binding as it relates to the content. The Giveaway is subject to all applicable federal, state and local laws.
Giveaway Period: Entries will be accepted in participating businesses and at Jamestown Renaissance Corporation starting on or about November 30, 2019 and ending December 18, 2019. All entries must be received by December 18, 2019 at 11:59PM EST.
How to Enter: Below are the methods to enter the Giveaway drawing.
Enter by making a qualifying purchase at a participating business: The Giveaway may be entered by making $10 purchase at participating businesses. Participants are located in downtown Jamestown, and include restaurants, retailers, hairdressers, and attractions. For a full list visit jamestownupclose.com. The entry must fulfill all Giveaway requirements, as specified, to be eligible to win a prize. Entries that are not complete or do not adhere to the rules or specifications may be disqualified at the sole discretion of Jamestown Renaissance Corporation. You may enter one time for each qualifying purchase, regardless of total spent (example: a $30 purchase gets you one entry, not three).
Free Entry Method: To receive an entry without contributing, mail one Shop Small Win Big entry slip (available at participating businesses) in a self-addressed stamped envelope to: Jamestown Renaissance Corporation, 301 E Second Street, Suite 301, Jamestown, NY 14701, or drop the slip to the same address during standard business hours. Limit one entry per day/envelope.
Additional Conditions: Any attempt by any participant to obtain more than the stated number of tickets or entries by using deceptive methods may void that participant's entries and that participant may be disqualified.
Sponsor is not responsible for lost, late, incomplete, postage due, invalid, unintelligible or misdirected entry applications, which will be disqualified and destroyed. All entries must be made in the name of the individual and no transfer of ownership of a ticket is permitted. No entries will be accepted from or on behalf of, corporations, trusts, partnerships, or other entities.
Prizes: Winners will receive one of ten gift cards to a downtown restaurant/retailer of their choice. Two prizes will be valued at $100, and eight prizes will be valued at $50. The specifics of the prize shall be solely determined by the Sponsor. No cash or other prize substitution permitted except at Sponsor's discretion. The prize is nontransferable. Any and all prize related expenses, including without limitation any and all federal, state, and/or local taxes shall be the sole responsibility of the winner. No substitution of prize or transfer/assignment of prize to others or request for the cash equivalent by winners is permitted. Acceptance of prize constitutes permission for Jamestown Renaissance Corporation to use winner's name, likeness, and entry for purposes of advertising and trade without further compensation, unless  prohibited by law.
Odds: The odds of winning depend on the number of eligible entries received in the Giveaway prior to the drawing date.
Winner selection and notification: Winners of the Giveaway will be selected in a random drawing under the supervision of the Sponsor. Winners will be notified via the contact information provided on the entry slip on December 20. Jamestown Renaissance Corporation shall have no liability for a winner's failure to receive notices due to winners' spam, junk e-mail or other security settings or for winners' provision of incorrect or otherwise non-functioning contact information. If the selected winner cannot be contacted, is ineligible, fails to return contact by December 22, or fails to claim the prize within 10 days from the time award notification was sent, or fails to timely return a completed and executed declaration and releases as required, prize may be forfeited and an alternate winner selected. The receipt by winner of the prize offered in this Giveaway is conditioned upon compliance with any and all federal and state laws and regulations. ANY VIOLATION OF THESE OFFICIAL RULES BY ANY WINNER (AT SPONSOR'S SOLE DISCRETION) WILL RESULT IN SUCH WINNER'S DISQUALIFICATION AS WINNER OF THE GIVEAWAY AND ALL PRIVILEGES AS WINNER WILL BE IMMEDIATELY TERMINATED.
Rights Granted by you: By entering this contest you understand that Jamestown Renaissance Corporation, anyone acting on behalf of Jamestown Renaissance Corporation, or its respective licensees, successors and assigns will have the right, where permitted by law, without any further notice, review or consent to print, publish, broadcast, distribute, and use, worldwide in any media now known or hereafter in perpetuity and throughout the world, your entry, including, without limitation, the entry and winner's name, portrait, picture, voice, likeness, image or statements about the Giveaway, and biographical information as news, publicity or information and for trade, advertising, public relations and promotional  purposes without any further compensation.
Terms: Jamestown Renaissance Corporation reserves the right, in its sole discretion to cancel, terminate, modify or suspend the Giveaway should (in its sole discretion) a virus, bugs, non-authorized human intervention, fraud or other causes beyond its control corrupt or affect the administration, security, fairness or proper conduct of the Giveaway. In such case, Jamestown Renaissance Corporation may select the recipients from all eligible entries received prior to and/or after (if appropriate) the action taken by Jamestown Renaissance Corporation. Jamestown Renaissance Corporation reserves the right at its sole discretion to disqualify any individual who tampers or attempts to tamper with the entry process or the operation of the Giveaway or website or violates these Terms & Conditions.
Any attempt by an entrant to deliberately damage any web site or undermine the legitimate operation of the Giveaway may be a violation of criminal and civil laws and should such an attempt be made, Jamestown Renaissance Corporation reserves the right to seek damages from any such person to the fullest extent permitted by law.
Limitation of Liability: By entering you agree to release and hold harmless Jamestown Renaissance Corporation and its subsidiaries, affiliates, advertising and promotion agencies, partners, representatives, agents, successors, assigns, employees, officers and directors from any liability, illness, injury, death, loss, litigation, claim or damage that may occur, directly or indirectly, whether caused by negligence or not, from (i) such  entrant's participation in the Giveaway and/or his/her acceptance, possession, use, or misuse of any prize or any portion thereof, (ii) technical failures of any kind, including but not limited to the malfunctioning of any computer, cable, network, hardware or software; (iii) the unavailability or inaccessibility of any transmissions or telephone or Internet service; (iv) unauthorized human intervention in any part of the entry process or the Promotion; (v) electronic or human error which may occur in the administration of the Promotion or the processing of entries.
Disputes: THIS GIVEAWAY IS GOVERNED BY THE LAWS OF THE UNITED STATES OF AMERICA AND NEW YORK STATE, WITHOUT RESPECT TO CONFLICT OF LAW DOCTRINES. As a condition of participating in this Giveaway, participant agrees that any and all disputes which cannot be resolved between the parties, and causes of action arising out of or connected with this Giveaway, shall be resolved individually, without resort to any form of class action, exclusively before a court located in New York State having jurisdiction.
Further, in any such dispute, under no circumstances will participant be permitted to obtain awards for, and hereby waives all rights to claim punitive, incidental, or consequential damages, including reasonable attorneys' fees, other than participant's actual out-of-pocket expenses (i.e. costs associated with entering this Giveaway), and participant further waives all rights to have damages multiplied or increased.
Winners List: To obtain a copy of the winner's name or a copy of these Official Rules, mail your request along with a stamped, self-addressed envelope to: Jamestown Renaissance Corporation, 301 E Second Street, Suite 301 Jamestown, NY 14701. Requests must be received no later than February 18, 2020.
Sponsor: The Sponsor of the Giveaway is Jamestown Renaissance Corporation, 301 E Second Street, Suite 301 Jamestown, NY 14701.